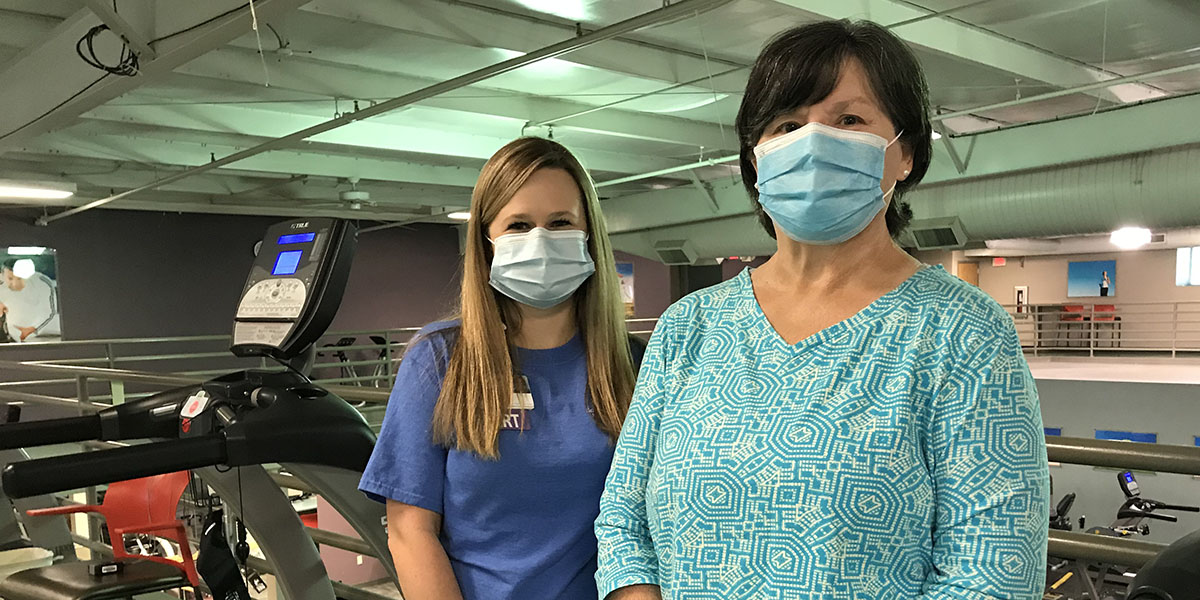 Heart Wellness Center patient calls program 'a second lifesaver'
Pat Hayes feared for her life.
She was having difficulty breathing. The simplest tasks – even getting dressed in the morning – exhausted her. She knew she needed to go to the hospital.
Doctors at the Spartanburg Regional Heart Center found performed a catheterization and found that she had an arterial blockage that required the placement of a stent.  
After the procedure last June, she was on the path to recovery – but the climb would be steep. Hayes has been supported along the way at the Spartanburg Regional Heart Wellness Center.  
Heart Wellness Center staff members work one-on-one with patients who have suffered a heart attack or struggled with other cardiovascular illnesses. They lead patients through an exercise regimen and provide education to promote self-care and a healthy diet. 
"After my surgery, cardiac rehab support has been like a second lifesaver for me," Hayes said.  
Respiratory therapist Mandy Day remembers working with Hayes last summer for the first time. 
"She could barely work with some of the exercise equipment," Day said. "It was very difficult for her." 
Hayes steadily built strength and endurance as she worked out on elliptical machines and a treadmill.  
"Now, she's a whole different person in terms of weight loss, her attitude and stamina," Day said.  
"I'm feeling great – it's really wonderful," Hayes said.  
She credits the support of Day and other wellness center staff.  
"It's such an encouraging group," she said. "The place is amazing." 
Hayes is grateful for support from donors to the Spartanburg Regional Foundation, too. The Foundation's Harrison Chapman Fund provides assistance for patients who need cardiac rehabilitation but lack insurance to cover the full cost of the program.  
Harrison Chapman was a well-respected community volunteer and philanthropist who died in 2014. Her children – Sadie, John and the late Rob Chapman – established the fund to honor her legacy of giving.  
Hayes is retired and lives on a fixed income.  
"Had it not been for the Harrison Chapman Fund, I would have had to put this on a credit card," she said. "So, the assistance is truly a blessing." 
Learn more about the Heart Wellness Center at Spartanburg Regional's website.  
Would you like to support the Harrison Chapman fund or other programs that benefit the Spartanburg Regional Heart Center? Learn more at the Foundation's website.