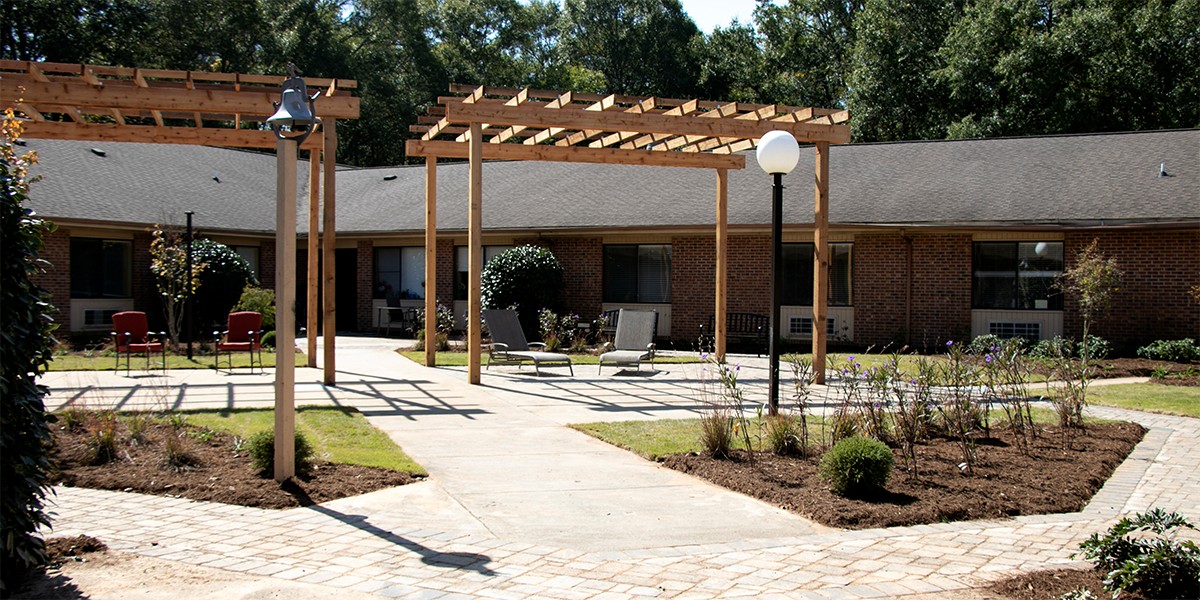 The renovated garden at Woodruff Manor
Redeveloped courtyard supports seniors' well-being
Experts who care for the elderly tout the importance of spending quality time outdoors. It can decrease depression, promote sleep and connect aging adults with childhood memories.
That's why Adam Terrell, administrator of Woodruff Manor, was grateful for a $75,000 grant from the Spartanburg Regional Foundation that funded a major renovation of the nursing facility's courtyard.
"One of the things we are focused on here is our residents' psychosocial well-being," he said. "This grant is such a wonderful gift."
"It was a thorough makeover," Terrell said. "Before this work was completed, the courtyard had boxwoods and sparse grass. We had really old concrete patio furniture. Now we have pretty shrubbery and good ground cover, a walking path and new furniture."
Woodruff Manor is an 88-bed facility serving residents ranging in age from 64 to 101. Many are from the Woodruff area.
"We are a tight-knit, community nursing home. It's a family atmosphere," Terrell said.
During the COVID-19 pandemic, there have been restrictions on visitation and group activities.
"Now residents are able to go into the courtyard in small numbers," Terrell said.  "They take part in light exercise and stretching activities or just enjoy the fresh air and sunlight."
The renovation has been especially meaningful for residents whose rooms are on the interior of the building – with windows looking out to the courtyard rather than the facility's exterior. 
"When I go into an interior room and see how things look now, it is so much more refreshing," he said.
Each year, the Spartanburg Regional Foundation awards grants to SRHS departments to improve facilities, provide technology upgrades, support clinical training and foster innovation. Grants are also awarded to community nonprofits that promote health and wellness. The Foundation funded 17 grants totaling $605,000 in 2020.
In 2016, a Foundation grant funded the redevelopment of outdoor space at Ellen Sagar Nursing Center in Union.
Terrell said both residents and staff at Woodruff Manor are grateful for donors who made the courtyard renovation possible.
"It makes them feel that they've being invested in," he said.
Learn more about Spartanburg Regional Foundation at https://www.regionalfoundation.com/.