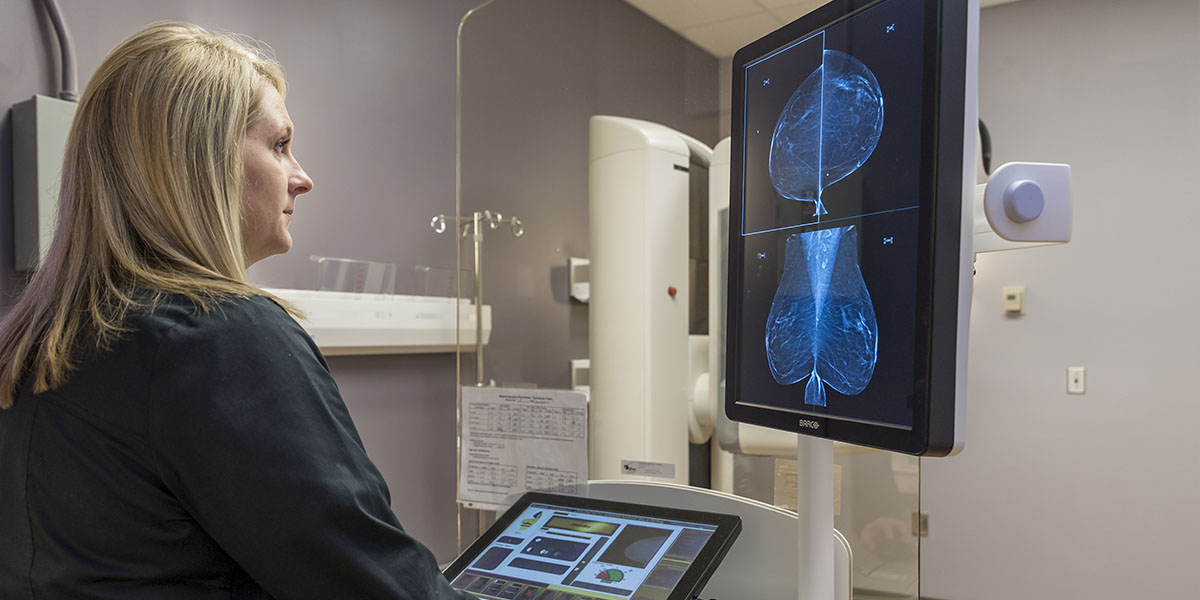 Newest mammography technology could change women's lives
A new 3D mammography could be a game-changer for identifying early breast cancer.
The 3D mammogram can save lives by finding tiny and early breast tumors that might elude standard mammography. The 3D mammogram is a more accurate and potent tool in the fight against breast cancer. And now it's available at Spartanburg Regional Healthcare System.
A 3D mammogram shows multiple slices of the breast, making it easier for doctors to identify breast masses.
To compare 3D mammography to standard mammography, imagine holding a deck of cards. With 2D or standard mammography, you can see the depth of the stack, the width and length. If there's a bump big enough to cause a dent or pimple in the deck, you can see it. With 3D mammography, you can see each card, separately, in the deck, and precisely which ones have a dent or bump.
"2D mammography is still the standard of care, but this new technology adds additional images for the radiologist to view," said Mary Mabry, RTR(M), director of Bearden Josey Center for Breast Health at Spartanburg Regional.
Spartanburg Regional is replacing nine mammogram machines with 3D mammogram technology through 2020. Three were already replaced in 2017.
Medicare, Medicaid, the Mammography Assistance Program and most commercial insurers will pay for 3D mammography.
For women, the 3D mammogram is a similar physical experience to the standard mammogram.
"The 3D mammogram takes image slices of the breast, so the radiologist is able to examine each slice, as opposed to two dimensions of the breast," Mabry said. "Seeing the slices can reveal small areas of abnormality that the 2-D mammogram doesn't see."
This helps the radiologist find early-stage breast cancers. It also reduces the number of times women who do not have cancer are called back for additional testing.
"Our call-back rate for abnormal mammograms should decrease, and our detection rate should increase," Mabry said.
Experts hypothesize that 3D mammography will outperform current screening methods in two ways: First, it will spot the difference between tumors and non-cancerous abnormalities. Second, it will find tumors that are smaller and earlier in development than what are currently found.
To examine the effectiveness of 3D mammograms, Spartanburg Regional will take part in an eight-year clinical trial.
"It's a very important trial that will answer our questions and let us know the effectiveness of 3D and how often a woman should have a screening mammogram based on her breast history and other risk factors," Mabry said.
The national study is recruiting 200,000 women with dense breast tissue.
If the clinical trial proves the benefits of 3D mammography, then the technology would help prevent severe and invasive breast cancer treatments by diagnosing cancers in their earliest stages. Women could be diagnosed as early as stage 1, which occurs before the lymph nodes are impacted. Their treatment might be just a lumpectomy with radiation.
"Those are the cancers we really want to find," Mabry said. "The earlier you find the cancer, the better the outcomes.
Women interested in learning more about the clinical trial can call 864-560-6812.
To schedule your annual mammogram, call 864-560-7777 or schedule on MyChart.