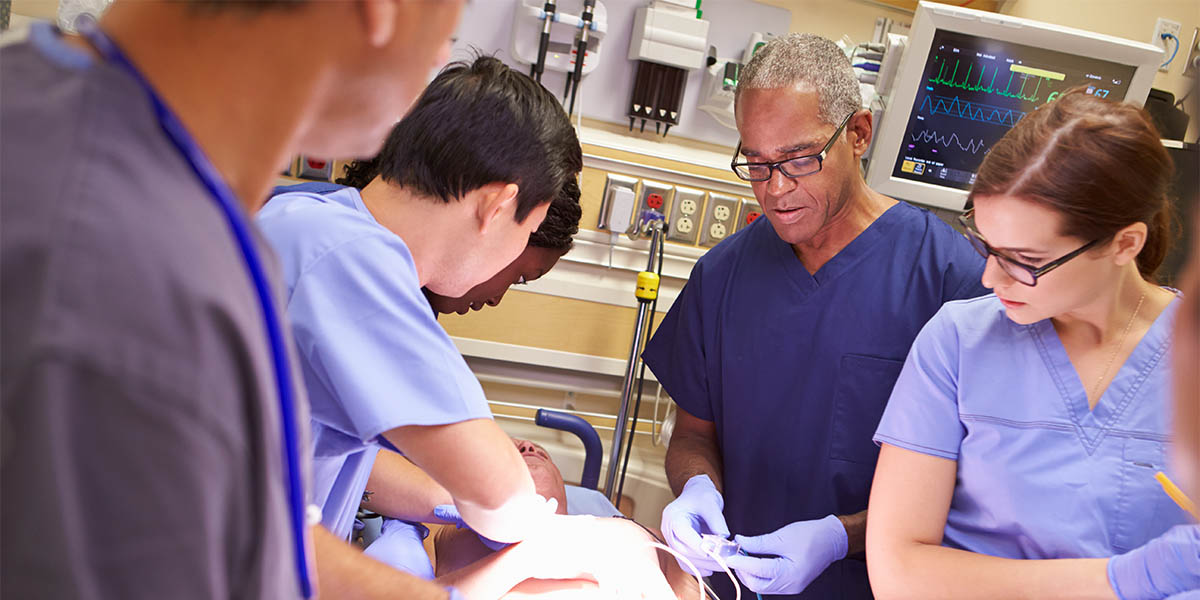 New emergency procedure saves lives when minutes matter
When a seriously injured patient is rushed through the doors of Spartanburg Medical Center's Level I trauma center, the trauma team springs into action – with life or death hanging in the balance.
Sometimes trauma patients arrive bleeding from multiple wounds, or from areas the trauma team is unable to immediately locate. This can result in death within minutes if the bleeding cannot be stopped. A new life-saving procedure can help trauma surgeons buy a little time that can save lives.
Spartanburg Medical Center's trauma team is one of the first in South Carolina to implement a procedure known as REBOA (Resuscitative Endovascular Balloon Occlusion of the Aorta). The REBOA procedure helps prevent seriously injured patients from bleeding to death through the insertion of a balloon that temporarily blocks blood flow to the lower extremities.
Trauma surgeon Kristine Lombardozzi, MD, was instrumental in bringing this lifesaving technology to SMC.
Dr. Lombardozzi shared what the community needs to know about REBOA:
How do patients benefit from REBOA when they are seriously injured?
REBOA is a procedure in which a trauma surgeon places a balloon inside the body's largest arteries. This temporarily blocked artery will slow down or completely stop the bleeding throughout the torso. This procedure is quickly done in the emergency center to stop a person from bleeding to death from an injury in the abdomen or pelvis area.
Having quick control of the bleeding provides the trauma surgeon time to get to the operating room without the patient experiencing additional blood loss. This can lessen the need for blood transfusions and minimize damage to other organ systems.
REBOA also provides the trauma surgeon with another option to choose from when taking care of seriously injured patients; as it enables us to extend the highest quality comprehensive trauma care to each of our patients.
Why did Spartanburg Medical Center decide to start performing REBOA?
Prior to early 2016, performing the REBOA procedure required an advanced set of skills that were difficult for a trauma surgeon to obtain and maintain. The recent availability of a wireless catheter system allows the trauma surgeon to safely and easily perform this procedure with a small amount of extra training.
The trauma surgeons at Spartanburg Medical Center began discussions about this procedure in early 2017. Since we function at the highest level as a trauma system, we felt that we were rising to an optimal level of patient care by making this procedure available to our patients.
How has REBOA saved someone's life at Spartanburg Medical Center?
We had a patient who suffered a significant blunt abdominal trauma and was taken directly to the operating room from the emergency center. Once in the operating room, the operating team found that they were having difficulty controlling bleeding from the deepest area of the abdomen, involving the liver, kidneys and pelvis.
The REBOA catheter was inserted to control this bleeding, thus allowing the surgeons to identify the areas of injury and repair them without additional blood loss. This enabled the patient to have a successful operation and lessened the negative effects that his body suffered as a result of his hemorrhage.