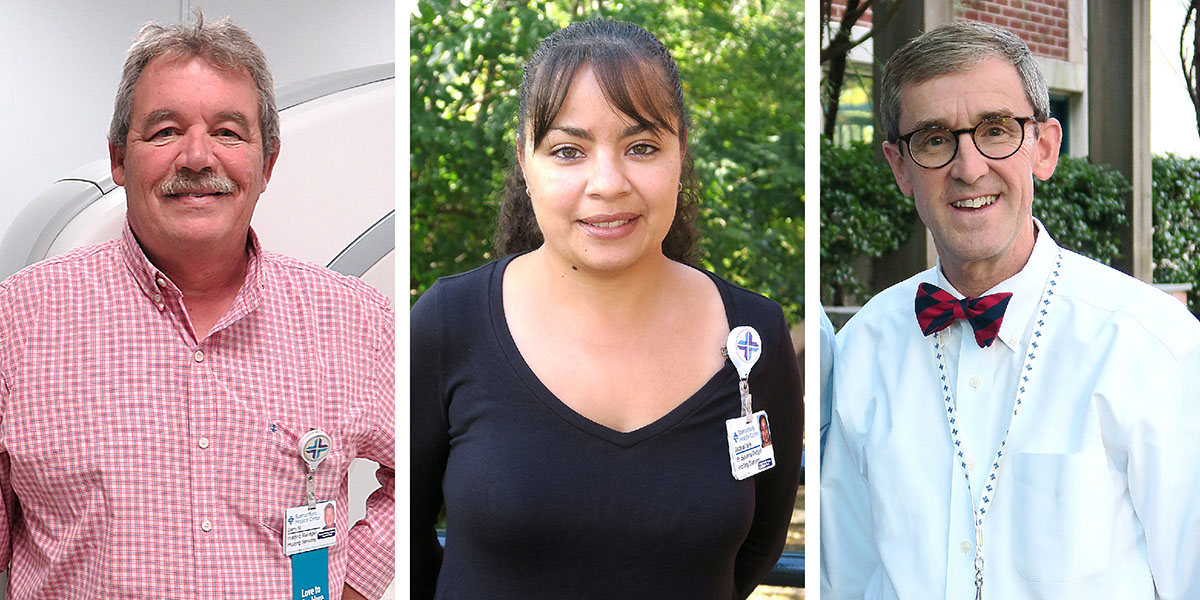 Focused on the mission
Garry Moore has only been late to work once in his life. It happened less than a year after he began his Navy career on Parris Island.
He overslept after a command softball game and someone was sent to find him.
"It was the first and last time I was late to work," said Moore, who prides himself on being punctual and never missing a deadline.
He is one of 331 military veterans who work for Spartanburg Regional Healthcare System.
These veterans have military-honed skills that many of their colleagues respect and rely upon. Their understanding of commitment, teamwork and service before self makes Spartanburg Regional a better place for patients and the colleagues they work alongside.
Three Spartanburg Regional associates share how their military service has shaped them and their approach to work.
Jackie Humphries
Humphries was one of four children in her family from the Bronx. Her father died when she was 2 years old and her older brother, Nelson, became a father figure.
"He was someone I was proud to look up to," said Humphries of her brother, who served in the U.S. Army.  
Nelson's military service inspired Humphries. She enlisted in the U.S. Air Force at 19 and served four years as a member of its Security Forces. The Air Force's core values (integrity, service before self and excellence) shape how she approaches her work in information technologies for Spartanburg Regional.
"It's ingrained in me and how I do everything I do," said Humphries, a senior applications analyst.
Humphries is always focused on the mission.
"I try to make sure if we have issues to have them resolved as soon as possible so caregivers have the tools needed to provide patient care," she said.
Humphries joined Spartanburg Regional in 2015 when the health system acquired Wallace Thomson Hospital in Union, now named Union Medical Center. Steve Hester, system director of enterprise systems, said Humphries was extremely helpful during the integration. She offered insight on Wallace Thomson's IT infrastructure and took on additional responsibilities during the transition.
"(The Air Force) is a part of her DNA and a part of her work ethic and ability to take on projects and tasks to help people," Hester said. "She exhibits it every day." 
Garry Moore
Garry Moore didn't have college aspirations during high school. He decided to head straight to the workforce, but the economy wasn't that great in the 1980s.
Within five years of graduating from high school in Greer, he was laid off several times. There was a window when he applied for up to 20 jobs and no one hired him.
That's when he decided to enlist in the Navy.
"I knew I needed a change," said Moore, CT manager for Imaging Services, who had a stepbrother and an uncle who served in the Navy.
He talked to his uncle and decided that he wanted to be a hospital corpsman. He soon started setting goals and decided to pursue college when he realized he wanted to become an officer.
"The Navy taught me how important education was for my career," Moore said. "If I hadn't gone into the Navy, I don't know if I would have gone to college."
His 20-year Navy career involved service at naval hospitals where he taught radiology programs.
Moore, who has worked with Spartanburg Regional for 13 years, oversees a team of 30 people. He credits the Navy for helping him develop management skills that build trust and empower associates.
"If you have really good integrity, the teamwork and leadership will fall into place," Moore said.
Brian Webb, system director for Imaging Services, said he appreciates Moore's teaching ability and how his team responds to him. Webb said patient satisfaction and staff engagement scores have increased in Moore's department since he was promoted to manager.
"He's very detail-oriented and punctual," Webb said. "He makes sure all the bases are covered."
Perry Patterson
Michael Starnes, director of radiation oncology and oncology clinical performance, had worked with Perry Patterson for a number of years before learning about Patterson's service in the Air Force. That explained how Patterson could juggle anything tossed at him.
"Coming from a family with someone in the military gives you an understanding of what it takes to be in the military and how they do what they do," said Starnes, whose father served in the Air Force. "Perry does the work and moves on. That's common in the military." 
Patterson began overseeing the Cancer Learning Center at Gibbs Cancer Center & Research Institute in 1999. It was a job that was part of a forward-thinking concept at the time. It was also a role that the Air Force prepared Patterson for in many ways.
The Cancer Learning Center is a hub for activity. Patients and their family members visit to get more information about cancer, treatment options and resources. Gibbs Cancer Center's clinical staff look for Patterson's help with projects.
"He always gives his full and undivided attention," Starnes said.
After graduating from Virginia Military Institute (VMI), Patterson began his career as a young Air Force lieutenant. Patterson's duties involved human resource responsibilities, communication tasks and representing the commander in the command center.
"I was interacting with all of these different people on the base," Patterson said. "I'm working with all kinds of different people here, too. Whether it's our doctors or requisitions for different departments and working with vendors and library work with patients and families."
Patterson served four years in the Air Force, in England and Japan. His father's service inspired him. Patterson's father, who was a German prisoner of war during World War II, was awarded a Silver Star.
"He was always a great example," Patterson said. "I saw how he loved the military and the camaraderie and realized I wanted to be part of it and to serve in some way."
Serving his country was a life-changing experience for Patterson, too.
"I think it deepened my love of country and our freedoms as Americans," he said. "On a practical level, because I was so young, it taught me how to survive in an environment where you can't fall behind. As a young officer, I learned how to not only survive but excel in a high-pressure environment."