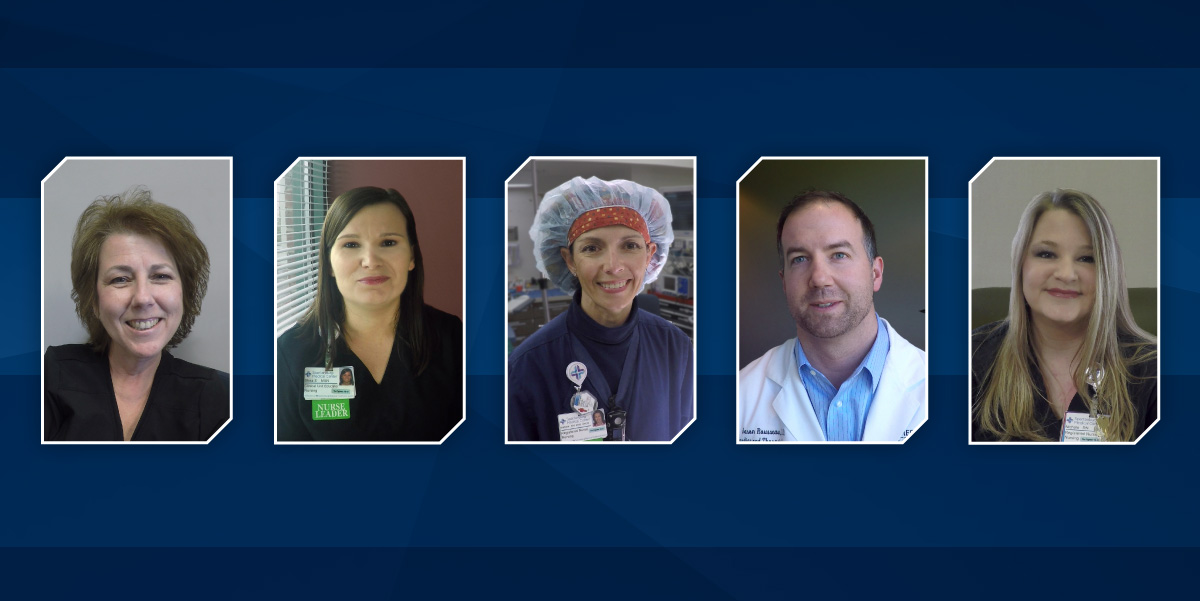 Five stars of cardiac care
The heart is a complex and powerful organ. Its beat sustains life, encourages music and inspires poetry.
But that beat is sometimes interrupted, and to get it back on track requires cardiac surgery – a delicate and complicated procedure. Several teams of experts work together to heal a heart, as part of a process that begins before surgery and ends long after the patient has left the hospital.
While hundreds of people are involved in cardiac care for Spartanburg Medical Center, here are five stars that shine:
Cardiothoracic and Vascular Surgeons and Staff
Jason Rousseau, MD, is one of the surgeons at Medical Group of the Carolinas Cardiothoracic and Vascular Surgery – Spartanburg. Many times, this office is the first stop in a patient's cardiac surgery journey.
Everyone at the practice, from surgeons to the entire staff, care about the patient and their quality of life, Rousseau said.
"The people I work with are incredible," Rousseau said. "They truly are passionate about what they do."
Watch Dr. Rousseau talk about his work.
Cardiovascular Operating Room
Cardiac surgery happens in the operating room, where as many as seven people could be present at any given time as experts work to repair hearts.
Certified operating room nurse Barbara Cantrell, RN, is one of the experts in the thick of it.
"We rely heavily on teamwork and communication at any point," Cantrell said. "We all have to work together to get the job done."
Besides her work in the operating room, Cantrell said her job involves keeping families informed about what's happening during surgery and to reassure them.
Cantrell and her coworkers are passionate about their work.
"It's not just a job," Cantrell said. "It's a chosen path for us."
Watch Barbara Cantrell, RN, talk about her work.
Cardiovascular Recovery Unit
After cardiac surgery, patients are brought to the cardiovascular recovery unit, or CVRU. There, they meet the team led by charge nurse Tonya Shelton, BSN, CVRN.
The CVRU at Spartanburg Medical Center is a 10-bed cardiothoracic surgery unit that specializes in caring for patients who undergo open heart surgery.
"The nurses in CVRU are responsible for maintaining that patient, for maintaining a blood pressure, for supporting their bodily functions, such as breathing, blood pressure, and basic caring for the patient when the patient is completely unconscious and can't care for themselves," Shelton said.
Shelton has nothing but praise for the team she works with, Shelton said.
"If you're someone from this community who has ever been in CVRU, you know how special we are. You know that we care, and that we give it our all," she said.
Watch Tonya Shelton, BSN, CVRN, talk about her work.
4Heart
The fourth floor of Spartanburg Medical's Heart Center is a "post-CVRU step-down unit," dedicated to helping patients return to a basic level of life. They monitor patients, care for them as they build strength and learn to manage medications, and help them begin small tasks such as walking again.
Charge nurse Nichole Murray, RN, is one of the many faces a recovering cardiac surgery patient might meet. She describes her coworkers as a family.
"When you put your heart and soul into taking care of somebody, you have to deliver the best quality care possible," Murray said. "You want to see them succeed."
The staff of Spartanburg Medical Center gets the supplies, education and resources they need to be their best, Murray said, but in the end excellence comes down to one element – the people providing care.
"But truly it just takes a dedicated person," Murray said. "We are all dedicated."
Watch Nichole Murray, RN, talk about her work.
Heart Wellness Center
The last stop on the road to recovery from cardiac surgery is the Heart Wellness Center. There, patients work with previous cardiac nurses, respiratory therapists and exercise specialists.
"Patients come to us after a whirlwind adventure in the hospital," Shea Shuller, RN, MSN, said.
Patients typically start cardiac rehabilitation within three weeks after they are discharged from the hospital. They attend 36 sessions over a span of 12 weeks.
"We really help them heal from their surgery, and it helps them regain their quality of life," Shuller said.
Heart Wellness Center experts help recovering cardiac patients gain strength and teach them to modify the risk factors that may have led to their surgery in the first place.
"We're hoping to help them lead healthier lives," Shuller said.
Watch Shea Shuller, RN, MSN, talk about her work.
Healthgrades
Each year, Healthgrades — the leading online healthcare quality resource — spotlights the best hospitals in America. And for three years straight, Spartanburg Medical Center was named among the top 10 percent in the nation, earning Healthgrades Cardiac Surgery Excellence Award.
Spartanburg Medical Center is the only hospital in South Carolina to earn this five-star recognition. Learn more.