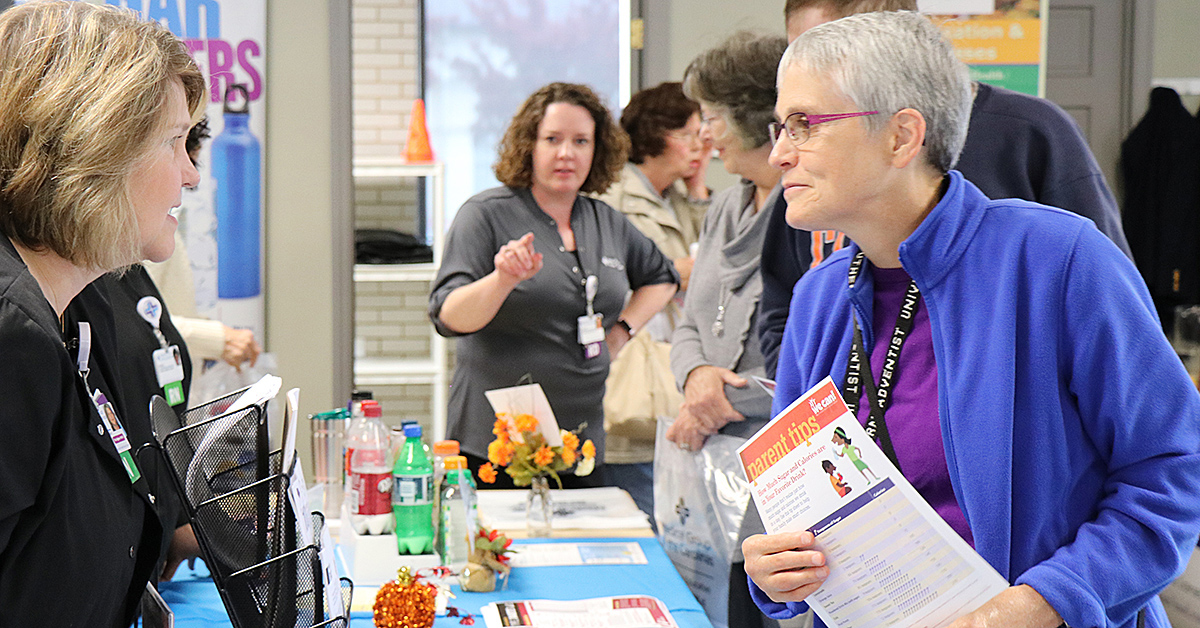 Robin Davis of Spartanburg, right, gets information at the Diabetes Nutrition Expo, held at the William L. Arthur Center at First Presbyterian Church Spartanburg, on Monday, Nov. 5, 2018.
Fighting diabetes together
Delicious food, friendly faces and information that could save lives. That's what more than 100 people got when they attended the second annual Diabetes Nutrition Expo.
The event, held Monday, Nov. 5, at First Presbyterian Church in Spartanburg, featured health experts from across Spartanburg Regional Healthcare System and beyond.
Attendees were treated to trays of pumpkin hummus and bright, colorful fruits and vegetables, provided by the nutrition staff at Spartanburg Medical Center. Chef Artina Lindsey of Morrison Healthcare answered questions about the healthy snacks, as did Spartanburg Regional wellness dietitian Joan Cope, RD, LD.
Plant-based nutrition expert Terri Edwards, a frequent speaker and presenter for Spartanburg Regional's heart center, handed out Green Monster Smoothies, made of spinach, grapes, bananas and pineapple.
Turnout at the event was great, according to diabetes education manager Erica Moore, MHS, of Medical Group of the Carolinas – Diabetes and Endocrinology.
"We always provide the community with a lot of diabetes nutrition resources," Moore said. "It's great to gather all of these resources in one room today."
Among those experts was Chantel Gant, community outreach coordinator for Gibbs Cancer Center and Research Institute.
Nutrition is an important part of cancer prevention, just as it is in diabetes education, Gant said. 
"We both talk about the importance of healthy eating at both," Gant said. "Eating healthy goes hand in hand with diabetes education."
Obesity prevention and diabetes are also tied together, and Michele Maddox, MSN, of Medical Group of the Carolinas-Weight Loss Services, offered information to event-goers.
"Eating right is part of living well, and it's great to collaborate with the different Spartanburg Regional departments to give the community a broad overview of that," Maddox said.
Community members who would like to learn more about diabetes services and prevention are encourage to call Medical Group of the Carolinas-Diabetes and Endocrinology at 560-6419, ext. 5.