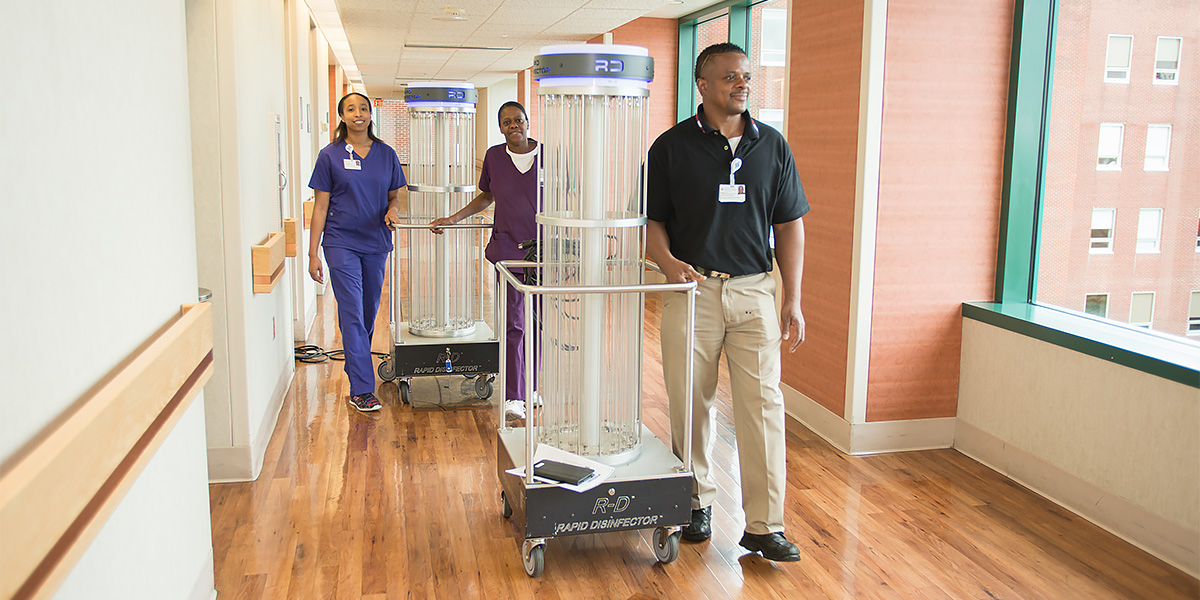 An extra layer of protection
SMC Uses UV Light to Obliterate Dangerous Germs
Marvin Crawford pushed a five-foot tall apparatus down Spartanburg Medical Center's hallway. Onlookers compare the device to a Star Wars character or a robot from "Lost in Space."
"Guests will get on the elevator with me and say 'Beam me up, Scotty!' referencing Star Trek," Crawford said, an Environmental Services Technician at Spartanburg Medical Center.
Rather than being a resident of outer space, the machine is the latest in healthcare disinfection: the Steriliz UV Light Disinfection System, a new technology at Spartanburg Regional Healthcare System that aids in the disinfection of rooms and creates a more "green" environment. Short-wavelength ultraviolet light kills bacteria by destroying nucleic acids, leaving them unable to perform cellular functions.
Crawford moved the device into a vacant labor and delivery room. He thoroughly cleaned the room, took sheets off the bed, pulled the shade down and emptied the trash.
He then placed five sensors around the room, shut the door and pressed a few buttons on a tablet to start the UV Light inside the machine. A bright purple light—compared to the intense lights of a tanning bed—can be seen under the door as the machine went to work. The Steriliz machine gives the room a final "scrub" with an Ultraviolet light. This is an extra layer of protection against germs.
"We bring out our double line of defense to break down germs on surfaces with the UV Light," said Ginger Hucks, SRHS director of hospitality services. "After thoroughly scrubbing walls, floors and other surfaces to prepare for our next guest, the UV light system touches every surface; even zapping the dust in the air vents."
SMC started training associates to use the device in November 2015 and has purchased additional UV disinfection systems for Spartanburg Hospital for Restorative Care and Pelham Medical Center.
SRHS's Hospitality Services implemented this new technology through a $78,497 grant received from the Spartanburg Regional Foundation in June 2015. The Foundation grants support nonprofits and health system programs that work to make Spartanburg a healthier community.
"We are proud to support initiatives that make our healthcare system stronger," said Kristy Caradori, Foundation executive director. "This disinfection system will no doubt make SRHS a better environment for patients, and it is a great example of the sort of cutting-edge healthcare technology the Foundation has helped bring to our community over the past 25 years."
The Steriliz UV Light Disinfection System is controlled from outside the room. After running 15 to 20 minutes, Sterliz uses wireless sensors to detect and report the amount of UV light delivered. The machine shuts off once each sensor receives enough light to eliminate any germs in the room. The data is recorded so environmental services and the infection prevention team can keep track of which rooms have been cleaned.
"We are very excited that the Foundation was able to help us with this next phase of cleaning," Hucks said. "We know this will make a difference. SRHS is making their best effort to make sure all of our patient rooms are safe. This is where I would want any of my family members to be cared for."
One germ the UV Light is especially adept at eliminating is C. difficile, one of the most dangerous and difficult bacteria to get rid of.
"This goes beyond elbow grease cleaning and assures that those hard to reach spots are touched by the UV Light," said Kathy Bryant, SRHS infection prevention manager. "Physicians and nurses are in awe of the machine. Everyone likes that it's environmentally friendly and doesn't leave behind harsh, harmful odors, allergens or rashes that some traditional cleaners do."
About Sterliz
Steriliz, LLC is a leading manufacturer of UV disinfection technology, with headquarters in Rochester, NY and offices in Franklin, TN.  Steriliz, LLC manufactures the Rapid Disinfector UV-C Disinfection Systems used to eradicate potentially harmful pathogens in hospitals, long-term care facilities, and other environments with dangerous pathogens. The Rapid Disinfector is the only UV-C disinfection system available with the ability to measure, record and report the actual UV-C doses delivered.