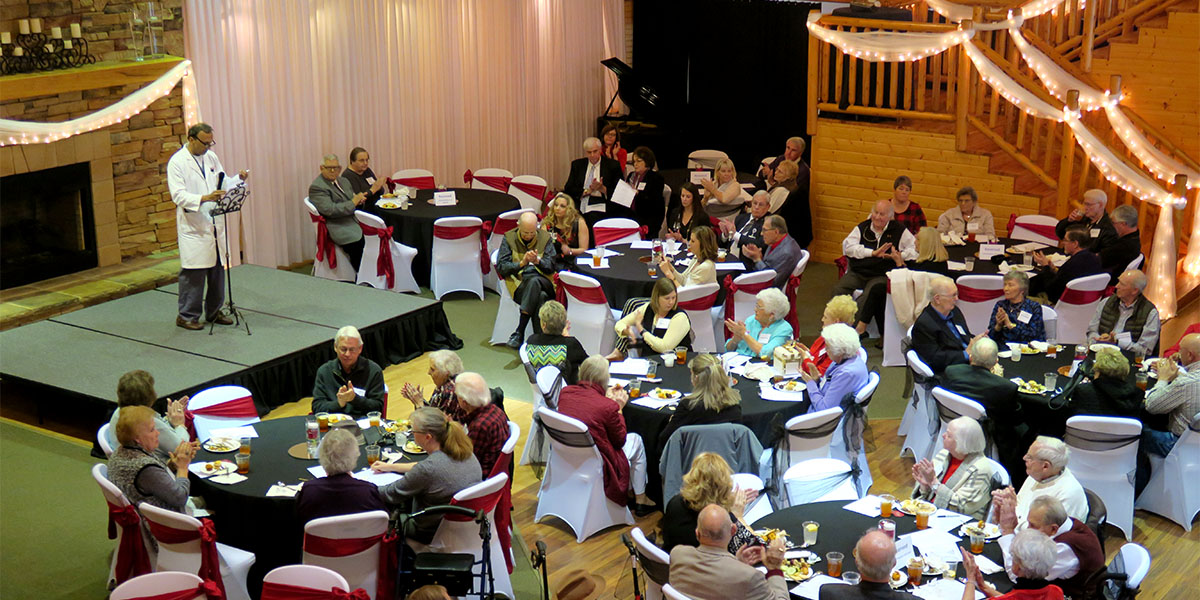 Nalin Srivistava, MD, at the TAVR event
Event celebrates first 100 TAVR patients
Basil "Junior" Whelchel's health had gotten so bad that he spent most of the day sleeping.
When his caregivers with the Spartanburg Regional Heart Center told him about a new procedure that could give him a chance to get back on his feet, Whelchel was eager to give it a try. He underwent a minimally invasive surgery called TAVR, which stands for Transcatheter Aortic Valve Replacement. It's for patients suffering from a condition known as severe aortic valve stenosis.
Within days, Whelchel was "feeling like a new person. I had the surgery on Wednesday, and on Sunday I was singing in the choir at church."
Whelchel shared his story at a special gathering Tuesday at the Lodge at Lake Bowen. It was held in recognition of the first 100 patients to undergo TAVR surgery at the Spartanburg Regional Heart Center.
Nalin Srivistava, MD, one of the doctors who performs the surgery, addressed the group, noting that they have helped to pave the way for future patients to undergo this life-enriching – in some cases life-saving – procedure. "You are true pioneers," Dr. Srivastava said. "And we are here to celebrate you."
The event included refreshments, and most of the patients brought their spouse or other family members. Physicians, nurses, and other Heart Center staff attended. There were handshakes and hugs as patients were reunited with caregivers.
SRHS President and CEO Bruce Holstien welcomed the group and thanked them for "entrusting your care to us."
Representatives from Spartanburg Regional Foundation were also on hand. The Foundation raises funds to support the Heart Center and other departments throughout the healthcare system.
Ann Schwartz was the first TAVR patient at Spartanburg Regional. She had always been active but started feeling increasingly fatigued and out of breath. "I couldn't do a lot of things I wanted to do," she said. "Since (the surgery), I've been able to stay on my feet longer and have just been able to live a better life."
Aortic stenosis is a condition that becomes more common as people age. It occurs when the aortic valve is clogged with calcium and keeps the heart from pumping oxygen-enriched blood to the muscles. This causes fatigue, lightheadedness, chest pain, rapid heartbeat and swollen ankles and feet.
For many people, regular physical activities become hard to do, and their quality of life suffers.       
About 12 percent of Americans over age 75 have some level of aortic stenosis and about 80 percent of those are men. If it's not treated, close to 50 percent of patients will not live beyond two years after being diagnosed.
Open-heart surgery continues to be the best method for many patients struggling with aortic stenosis. But for those who are not candidates because of age or health history, TAVR is an important, cutting-edge option.
"If it hadn't been for this procedure, I wouldn't still be here," said Whelchel.
For more information about the Structural Heart program, visit SpartanburgRegional.com. Donate to the Foundation's Heart Fund.