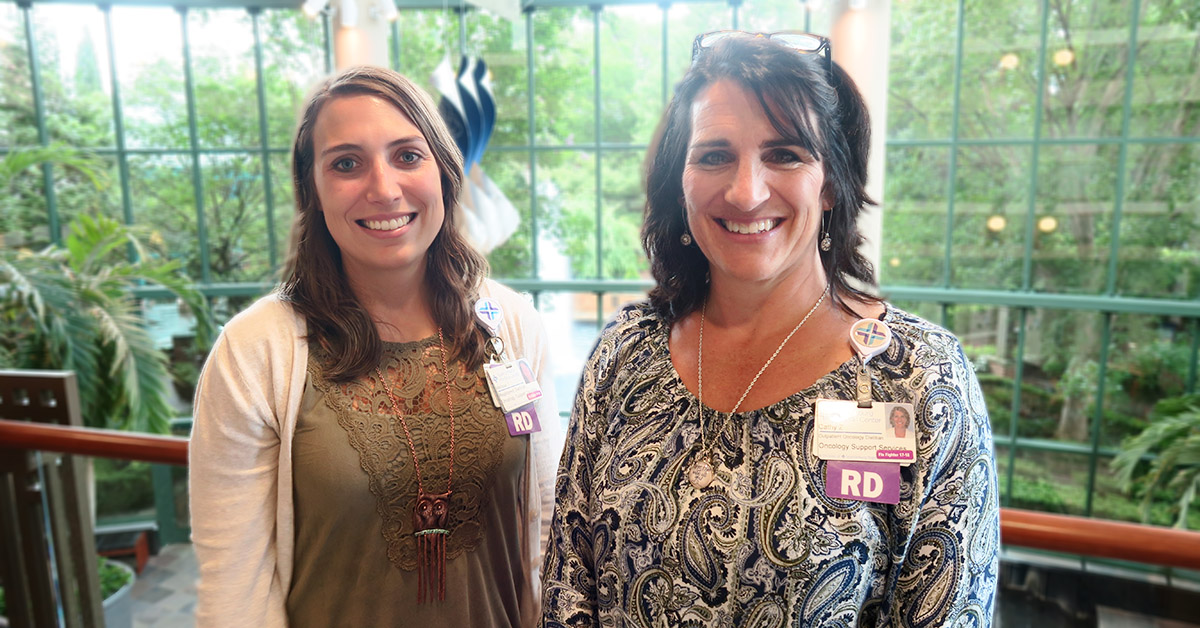 On the edge of art and science
A well-prepared meal is a thing of beauty. When it is nutritious and delicious, a good meal can energize, fortify and delight.
Dietitians study what kinds of foods, and how much, are needed to live a healthy life. They make a career on the edge of both art and science.
At Gibbs Cancer Center & Research Institute, two dietitians also play a role in the fight against cancer.
Cathy Zwilling, MS, RD, CSO, LDN, and Melissa Julian, RD, CSO, LDN, are experts in oncology nutrition. They advise patients in ways to maintain their strength during cancer treatments through proper diet. They also work to dispel the many myths surrounding the role that food plays in the fight against cancer.
"There's a lot of misinformation out there," Cathy said.
There are three focuses of oncology nutrition – prevention, symptom management and survivorship.
Prevention
Lifestyle choices can drastically affect whether a person is at higher risk for cancer, Cathy said.
"The first recommendation to reduce the risk of cancer – maintain a healthy weight," Cathy said. "A third of cancer risk could be reduced by eating right and exercising."
Symptom management
Cancer treatment can take a lot out of a person. The goal during this time is to help patients maintain strength and their quality of life.
"Nutrition is part of that," Cathy said. "If the patient is weak and not eating well, a doctor may not be able to treat the cancer as aggressively."
Oncology nutrition requires specialized knowledge of a patient's diagnosis and history, and oftentimes that means spending time with patients.
"We get to know our patients in a lot of ways," Melissa said.
Survivorship
Nutrition and exercise are important after cancer treatment, too. The survivorship program at Gibbs includes classes in tai chi, yoga and nutrition. "Healthy and Balanced" is a class that teaches cancer survivors ways to maintain a healthy weight and eat a nutrient-rich diet.
Cathy and Melissa work with survivorship coordinator Stacey Williams to provide individualized counseling or group presentations.  
Nutrition, not a cure
Nutrition is important, but there isn't a "perfect diet" that can cure cancer. There are many sources of misinformation online, Cathy said.
In general, people should avoid "Dr. Google," Melissa said, referring to the tendency of people to believe online information without examining it closely.
4 tips to determine if a health website is reliable
For reliable information, Cathy and Melissa recommend the Cancer Learning Center at Gibbs, the American Cancer Society and the American Institute for Cancer Research.
Studying oncology nutrition
Cathy and Melissa both developed a love of nutrition early.
Cathy's mother was a nurse, and the Minnesota native found herself drawn to health care. The nutritionist discovered her calling in school.
"I took one nutrition class and I was hooked," Cathy said.
Cathy came to work for Spartanburg Regional in 1990 as a dietitian in clinical nutrition. In the mid-1990s, a grant created the position of oncology nutritionist as part of the development of the oncology rehabilitation program at Gibbs.
Cathy credits the vision of Julian Josey, MD, and James Bearden, MD, for the creation and expansion of oncology rehabilitation.
"They knew that the patients needed more support after their time with the physicians," Cathy said.
About 10 years ago, Cathy took an exam and earned specialized credentials in oncology nutrition.
For Melissa, family history has driven her passion for nutrition since her high school days.
"My grandfather died at 63. He had Type 2 diabetes," the Michigan native said. "My dad has it now."
When Melissa came to intern at Gibbs, she didn't have experience with oncology nutrition. She loves the difference that she can make, and the different perspectives that she and Cathy brings to the treatment process.
"We're coming at it from a different angle," Melissa said. "We get the chance to help."